What's QXGEdit ?
QXGEdit is a Qt framework GUI for editing MIDI System Exclusive files for XG devices (eg. Yamaha DB50XG).
QXGEdit is free, open-source software, distributed under the terms of the GNU General Public License (GPL) version 2 or later.
Sourceforge project page: http://sourceforge.net/projects/qxgedit
Weblog: http://www.rncbc.org
Screenshots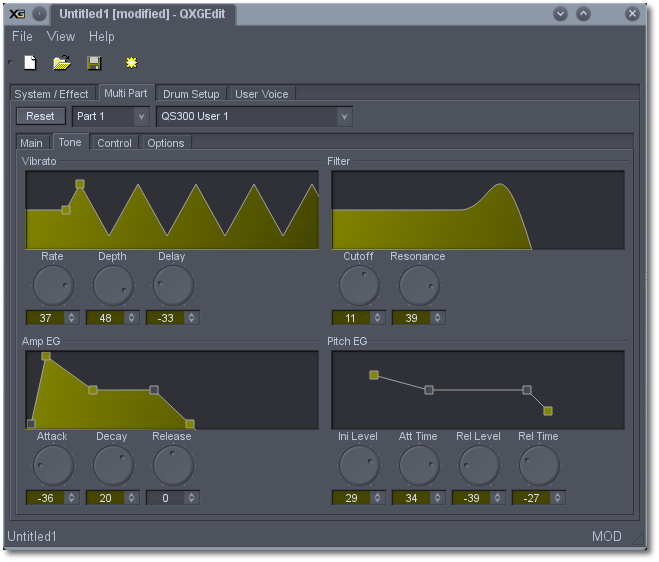 Click on image to see more screenshots...
Requirements
The software requirements for build and runtime are listed as follows:
Mandatory:
Downloads
Latest release
2016-11-14 - A Fall'16 release.
qxgedit-0.4.2.tar.gz
Fixed a potential crash on the singleton/unique application instance setup.
MIDI RPN/NRPN running status and RPN NULL reset command are now supported (input only).
Almost complete overhaul on the configure script command line options, wrt. installation directories specification, eg. --prefix, --bindir, --libdir, --datadir and --mandir.
Remove extra 'Keywords' entry and fix spelling (patches by Jaromír Mikeš, thanks).
Previous and older releases, including the change log, are also available here. You may also check out from the latest bleeding edge development source tree, using Git.
You can browse all files available for download, including binary packages, at QXGEdit Files on SourceForge.net.
Installation
The installation procedure follows the standard for source distributions. In the extracted source directory, just do:



./configure [--prefix=prefix]
make



and optionally as root:



make install



This procedure will end installing the following couple of files:
prefix/bin/qxgedit
prefix/share/applications/qxgedit.desktop
prefix/share/icons/hicolor/32x32/apps/qxgedit.png
Just launch prefix/bin/qxgedit and you're off (hopefully). Note that the default installation path prefix is /usr/local.
Configuration
QXGEdit holds its settings and configuration state per user, in a file located as $HOME/.config/rncbc.org/QXGEdit.conf. Normally, there's no need to edit this file, as it is recreated and rewritten everytime qxgedit is run.
Bugs
Plenty still, although this may be considered beta software already. ;)
Support
QXGEdit is open source free software. For bug reports, feature requests, discussion forums, mailling lists, or any other matter related to the development of this piece of software, please use the Sourceforge project page.
You can also find timely and closer contact information on my personal web site.
Enjoy.